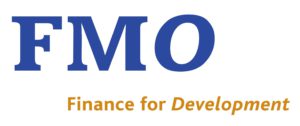 FMO, the Dutch Development Bank, received recognition for its detailed and clear Annual Report 2016 by winning the Best RI Award by an Asset Owner in the Medium and Small Funds category. The 5th annual RI Reporting Awards were handed out during the Responsible Investor Award Dinner in London. FMO's Annual Report particularly stood out to the jurors because of its reporting on UN Sustainable Development Goals, which was reflected in only very few reports. Other factors the judges praised were reporting on progress versus targets and on impact, such as the number of jobs supported or emissions avoided. The jury specially referred to FMO's use of interesting case studies and the high level of clarity and legibility of the report. The RI Awards were established to set an aspirational standard in responsible investment reporting across the institutional investment sector. Its aim is to spark and acknowledge high quality and transparency.
"We can only be successful as a business, if we are successful at boosting the emerging economies we operate in," says Jürgen Rigterink, Chief Executive Officer of FMO. "We help create jobs, provide economic growth, green economies and reduce inequalities. Our annual report needed to tell that story: how FMO as a business developed, and how the communities we propel, developed with us. We are incredibly proud that our efforts to tell an integrated story are honoured, and even more so, that we are seen to be setting a standard in the responsible investment community."
Every year, a team of experienced researchers qualify the nominated organisations, by looking out for publically available responsible investment reports that were published that year. The analysts assess the best practice based on around 50 key performance indicators. The judge panel, consisting of key actors from the responsible investment community, then evaluate and rank reports based on their experience and knowledge. Thirty-two reports from funds and firms ranging from small to large were shortlisted for one of the categories of the RI Reporting Awards.
About FMO
FMO is the Dutch development bank. FMO has invested in the private sector in developing countries and emerging markets for more than 47 years. Our mission is to empower entrepreneurs to build a better world. We invest in sectors where we believe our contribution can have the highest long-term impact: financial institutions, energy and agribusiness. Alongside partners, we invest in the infrastructure, manufacturing and services sectors. With an investment portfolio of EUR 9.8 billion spanning over 85 countries, FMO is one of the larger bilateral private sector development banks globally. www.fmo.nl
FMO Investment Management BV is a fully owned subsidiary of FMO, the Nederlandse Financierings-Maatschappij voor Ontwikkelingslanden NV which offers professional investors access to FMO's expertise in sustainable investing in emerging and developing markets.