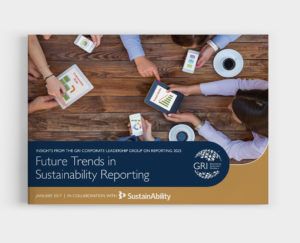 SustainAbility and GRI have published insights on four key trends fundamental to the UN Sustainable Development Goals: climate change, human rights, wealth inequality, and data and technology.  The insights provide practical guidance to organizations responding to the risks and opportunities that we face on our path to a sustainable future and are captured in the report Future Trends in Sustainability Reporting.
"SustainAbility is delighted to have partnered with GRI to deliver the Corporate Leadership Group on Reporting 2025," said Rob Cameron, Chief Executive, SustainAbility. "Corporate transparency is fundamental to the transition to a sustainable economy – allowing stakeholders to hold companies to account for poor performance, and to direct capital towards companies that are working to meet the 2030 Sustainable Development Goals. We hope the lessons will help more companies to make measurable and transparent progress in these critical areas."
SustainAbility continues to work with GRI, in collaboration with the UN Global Compact, to deliver the Reporting on the SDGs Action Platform. Together with representatives from leading businesses in a Corporate Action Group, we will be shaping the future of corporate reporting on the SDGs.