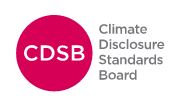 Last week, a group of ten companies across seven sectors become the first companies to make the commitment to implement the recommendations of the Task Force on Climate-related Financial Disclosures within three years. They will be disclosing information about the financial implications of climate-related risks and opportunities to understand how their business can adapt to a changing climate and exploit the opportunities that the low-carbon economy is already creating.
The first signatories – Aviva plc, Royal DSM, Enagás, Ferrovial, Iberdrola, Marks & Spencer, Philips Lighting, Sopra Steria Group, Wipro Ltd and WPP – were announced at two key sessions of Climate Week NYC, including World Economic Forum's first Sustainable Development Impact Summit. The sessions highlighted the urgency of scaling up high-quality disclosure of climate-related information, to allow companies and investors to make better decisions about their capital allocation risks.
Kirsty Cooper, Group General Counsel & Company Secretary, Aviva, said: "Having widely available, consistent and well used climate-related financial information is an imperative. It provides an important catalyst for global markets to help address climate change and is a cause which Aviva is strongly committed to."
Feike Sijbesma, CEO and Chairman of the Managing Board, Royal DSM said: "DSM continues to stay committed to bold climate action: we need to invest for the future while making our businesses future proof. Now is the right time to ensure an accelerated but orderly transition to a low carbon economy. A well informed business-investor dialogue, as recommended by the FSB Taskforce, will surely help to facilitate this. We are committed to working together with other companies, to explore how practical implementation of the Recommendations can serve this important dialogue."
Marcelino Oreja Arburúa, CEO of Enagás: "TCFD recommendations represent a useful tool to show our providers of capital how we are addressing and managing the challenges posed by the energy transition, and at the same time, they provide us the framework for emphasizing the environmental credentials of gas as a sustainable energy source and its advantages compared to other alternative fossil fuels."
Nicola Kimm, Head of Sustainability, Environment, Health & Safety, Philips Lighting, said: "Disclosing information about the material financial risks that climate change creates is critical for the stability of our financial system. At Philips Lighting we recognize not only the risks that climate change is already creating, but also the wide economic opportunities that the low-carbon transition is creating. We believe that this initiative will help us identify further avenues for climate-related investments and we are committed to disclosing material information for our investors and stakeholders."
Vincent Paris, CEO, Sopra Steria, said: ''As a major player in digital technology, Sopra Steria continues to be proactive in reducing the carbon footprint of its activities and supports its clients to do the same''.
Anurag Behar, Chief Sustainability Officer, Wipro Limited said, "Climate change increasingly poses serious threats to the stability of our economic system. It is critical that businesses continue to report consistent, comparable and reliable information on climate change impacts and opportunities to their stakeholders. We already report on our climate change programs, risks and opportunities to CDP, and this initiative will help us progress further on our work in integrated mainstream reporting. This will help us better manage climate-related risks and tap the economic opportunities arising out of a more sustainable economy."
Simon Messenger, Managing Director, Climate Disclosure Standards Board, commented on the announcement: "These companies have demonstrated their leadership by stepping up their efforts to disclose better quality information about their readiness to address risks associated with climate change. The disclosure of consistent and comparable information about the physical and transitional climate risks will contribute to building more transparent and therefore more resilient financial markets. We will continue to help businesses understand and manage these risks, as well as tap into the economic opportunities that a new climate economy is already creating."
Nigel Topping, CEO, We Mean Business coalition stated "There is a great need among the investor community to have consistent climate related financial risk disclosures from businesses in order for them to make more informed decisions on capital investment. With this commitment to follow TCFD disclosure recommendations both the business and investor community will be at the forefront of the climate finance agenda and it will give them confidence to create greater business resilience and explore new business opportunities."
Richard Samans, Head of Global Agenda and Member of the Managing Board, World Economic Forum and Chairman, Climate Disclosure Standards Board, said: "The current lack of consistent and comparable information on the financial implications of climate change undermines both the efficiency of capital allocation within our economies and the resilience of markets within our financial system.  The work of these pioneering companies in strengthening the disclosure of their climate-related risks and opportunities in a standardized manner represents an important new facet of good corporate governance in a world striving to accelerate the transition to a low-carbon economy in an orderly manner.  Theirs is a true act of leadership that is in the fundamental interests of their shareholders, other stakeholders and society at large."
Companies committing now will be reporting on their climate risks by 2020, in line with one of the financial milestones of Mission 2020, to ensure that institutions disclose climate-related financial risks and that credit ratings fully incorporate them.
Christiana Figueres, Climate Leader at the World Bank and Convenor of Mission 2020, said: "Urgent action on climate change is critical if we are to bend the curve of emissions by 2020. As a first step, that imperative requires companies and financial institutions to implement the TCFD recommendations soonest. Understanding the current risks helps to shift dollars into projects and companies that put us on a prudent, profitable path to full decarbonisation, and speed is of the essence as never before".
This initiative is part of the We Mean Business coalition's Take Action campaign which helps create the enabling environment for a rapid and fair transition to a more sustainable financial system and accelerate the transition to a low-carbon economy. We encourage more companies to commit to implement the recommendations of the Task Force on Climate-related Financial Disclosures.