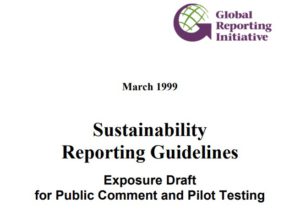 The Global Reporting Initiative (GRI) was established in late 1997 with the mission of designing globally applicable guidelines for preparing enterprise-level sustainability reports. GRI presented today an Exposure Draft of their Sustainability Reporting Guidelines for comment and pilot testing. These guidelines are the GRI's first major product.
The GRI is convened by CERES (Coalition for Environmentally Responsible Economies) and incorporates the active participation of corporations, non-governmental organizations (NGOs), consultants, accountancy organizations, business associations, universities, and other stakeholders from around the world. The GRI seeks to establish a common framework for enterprise-level reporting on the linked aspects of sustainability: the environmental, the economic and the social. It seeks to elevate enterprise-level sustainable development reporting to the level of general acceptance and practice now accorded financial reporting. To ensure the long-term value of these reporting practices, the GRI also seeks to develop and advocate greater stakeholder awareness and use of such reports.
This Exposure Draft embodies the contributions of a diverse range of individuals. Efforts were madeto include in the GRI as many different perspectives as possible by convening meetings in various locations, maintaining openness and transparency at inviting all interested to take part in Working Group activities, and posting of documents on the Internet.
These Guidelines have been developed for public comment and testing through the end of 1999. This test period will serve as a laboratory for assembling examples and experiences in this early stage of developing sustainability reporting guidelines. GRI seeks to advance the relevance of these Guidelines to critical stakeholders, including corporations, the developing world, and prominent standards-setting organizations. This comment and testing period is essential for increasing the global applicability of these Guidelines and building consensus among interested parties, who inevitably represent a range of views, countries, and cultures.
GRI seeks to encourage reporting enterprises and other stakeholders alike to review and pilot-test the Guidelines and to bring feedback and experiences to the attention of GRI. As a result of this information, the Guidelines will be revised and re-released in early 2000. Thereafter, GRI intends that ongoing stewardship of the process will be the role of a new permanent, independent, international body, governed by a range of stakeholders including, but not limited to, those currently involved in GRI.
Download the draft guidelines (pdf)