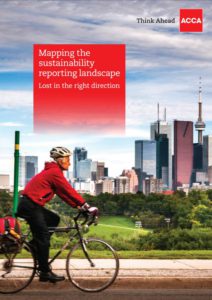 The adoption of integrated reporting, or <IR>, can be challenging but it generates tangible organisational, reputational and commercial benefits, according to <IR> adopters. The Insights into Integrated Reporting report published by ACCA (the Association of Chartered Certified Accountants) draws together a review of 41 corporate reports from around the world with interview commentary from some of their preparers.
The report finds that reporting quality was high across <IR> Business Network participants, and extrapolates several common benefits from the adoption of <IR>, including: more integrated thinking and management; greater clarity on business issues and performance; improved corporate reputation and stakeholder relationships; more efficient reporting; employee engagement and improved gross margins.
However, it also identified several areas where reporting can be improved, including:
Value creation: widespread challenges in identifying and articulating what the organisation's stakeholders perceive as 'value'.
Connectivity: companies identified this as one of the biggest challenges with implementing <IR>: it required breaking down silos within the organisation and changing existing data collection processes.
Defining performance measures: thinking and practice is still immature in articulating the value organisations derive from non-financial capitals.
Materiality: companies found it challenging to reconcile the needs of different stakeholders. Improving the materiality determination process could help drive improvements in conciseness, completeness and reliability.
Conciseness: nearly half of the integrated reports reviewed ran over 150 pages. Companies found it difficult to reconcile conciseness and meaningful communication with stakeholders.
Reliability and completeness: the reviewers felt that only 51% of the reports reviewed achieved a balance of good and bad news in equal measure. Companies need to know what 'good reporting' looks like, before they can implement internal control processes and consider external assurance on their integrated report.
'Reviewing the corporate reports produced by companies leading the charge on integrated reporting has given us unique insight into the progress made on <IR> adoption,' said Yen-Pei Chen, subject manager – corporate reporting at ACCA.
'The aim of integrated reporting – through integrated thinking – is to create a more stable and sustainable global economy, by encouraging companies to think about how they do business in a more holistic and forward-looking way. In today's volatile environment, this vision is as pertinent as ever.'
'Our research has found passionate support for the aims of <IR> among business leaders, but it has also pinpointed specific barriers to better reporting. I hope that our findings will drive action from standard-setters, regulators, professional bodies and researchers to help remove these barriers. At the same time, I hope that this will give businesses – as well as public sector organisations – the confidence to embark on their integrated reporting journey,' Ms Chen concluded.
'As the uptake of integrated reporting continues to grow across the world, this study shows there is equal effort put in to raising the quality of integrated reports as well as the number,' added Richard Howitt, CEO of the International Integrated Reporting Council.
'It is also shows the concrete advantages not simply of companies undertaking integrated reporting but of their joining the international <IR> Business Network, to learn with others and to be global advocates for change."