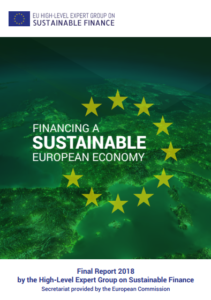 The International Integrated Reporting Council (IIRC) has welcomed the call from the High-Level Expert Group on Sustainable Finance for European action towards greater integration in corporate reporting.
The Group, which released its final report today, has called on the European Commission to "place greater emphasis on the need to integrated non-financial information" in the EU Directive on non-financial reporting.
The final report states, "The ultimate ambition has to be convergence or integration of financial and non-financial or sustainability information… Integrated reporting supports this convergence qualitatively through reporting that links sustainability factors with company strategy."
As the global coalition responsible for the adoption of integrated reporting internationally, the IIRC stands ready to work closely with the European Commission as they prepare an action plan on sustainable finance and to update the Directive.
Integrated reporting is adopted voluntarily by businesses in twenty of the EU member states, and the European Commission guidelines state that companies who adopt integrated reporting fully comply with the requirements of the EU Non-Financial reporting Directive. The practice of integrated reporting continues to evolve and spread, bringing increasing benefits to the businesses at the forefront of this movement including attracting longer term investors and a lower cost of capital.
Richard Howitt, CEO, IIRC said, "I pay tribute to the High-Level Expert Group for this incredibly timely and welcome report, which is a major step towards international efforts to creating a sustainable financial system. Implementing these changes will put Europe on the path towards a real sustainable future for the betterment of our planet, our people and our markets. Once again, the Group has identified just how crucial integrated reporting is to these efforts and we stand ready to play our role."