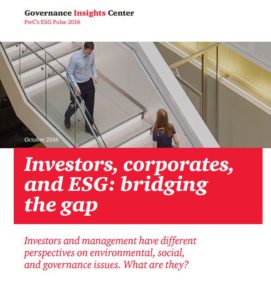 Investors expect companies to disclose environmental, social, and governance (ESG) information they can trust and understand.  But there is work to be done to bridge the gap between what investors want and what companies are providing. A new report by PwC describes this issue.
For the past decade, investors have expressed interest in ESG issues, including their importance in investment decision-making. Corporates have paid attention, and many are responding to investor demands. But there still isn't alignment between these two groups on why, what, where, and how often to report on ESG issues.
How important is ESG anyway?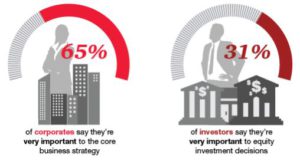 Corporates and investors see different value in disclosing ESG data: corporates are focused on growth, while investors are focused on risk. And it's unclear what, whether, and how investors are using the information. A critical turning point will happen when institutional investors demonstrate that this data actually plays an important role in equity investment decisions.
Making sense of the data.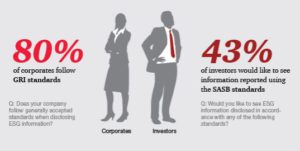 While companies are increasingly issuing sustainability reports that disclose aspects of their ESG programs—81% of S&P 500 companies did so in 2015— more than nine in ten of those we polled aren't doing it in a way that makes it easy for investors to compare across peer groups. Using a common standard could help bridge the gap: most corporates are using GRI.  Investors prefer SASB.
Strengthening trust and transparency.
Only 29% of investors are confident in the quality of the ESG information they're receiving from companies. How can that number be improved? One way to do that: having the information incorporated into the SEC filings or certified by an independent third party.
Explore the findings of the report to learn more.