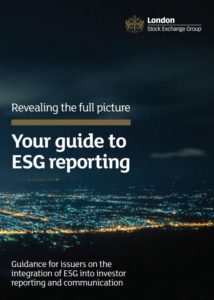 London Stock Exchange Group has today issued guidance, through its Global Sustainable Investment Centre, setting out recommendations for good practice in Environmental, Social and Governance (ESG) reporting. The global guide responds to demand from investors for a more consistent approach to ESG reporting, which is now a core part of the investment decision process. This guide is available on-line to both issuers and investors globally. It has also been sent to more than 2,700 companies that have securities listed on LSEG's UK and Italian markets with a combined market capitalisation of more than £5 trillion.
The report's intention is to help companies gain a clear understanding of what ESG information investors would like to see provided by companies. LSEG, as a leading international markets infrastructure provider connected to issuers, sell side and investors, is ideally placed to help promote good practice across the industry. Over the past year, the Group has spoken to companies of all sizes listed on London Stock Exchange and Borsa Italiana and FTSE Russell has engaged with asset owners and asset managers to understand the key challenges that face the industry in regards to ESG reporting.
The area of sustainable investment has changed dramatically, with consideration of ESG factors now seen as standard for most large institutional investors*. According to the Global Sustainable Investment Alliance, over a third of professionally managed assets globally incorporate ESG approaches, which represents more than US$20 trillion of assets under management.**
LSEG's guidance builds on market standards such as the Financial Stability Board's (FSB) Task Force on Climate-Related Financial Disclosures report and the UN Sustainable Development Goals.
Raffaele Jerusalmi, CEO of Borsa Italiana and Director of Capital Markets, LSEG said: "London Stock Exchange Group is a diverse markets infrastructure group that operates a broad range of international equity, ETF, bond and derivatives markets. This guide is specifically focused on improving the dialogue and information flows between issuers and investors, which will in turn benefit the market as a whole, as good practice in ESG becomes more and more relevant in the investment chain."
Mark Makepeace, CEO of FTSE Russell and Director of Information Services, LSEG said: "FTSE Russell is increasingly working with asset owners and fund managers worldwide to build ESG considerations into their equity benchmarks. It is vital that investors are able to measure and capture their exposure to ESG risks and opportunities and the launch of LSEG's guidance today will help companies understand what good ESG reporting looks like."
Nikhil Rathi, CEO of London Stock Exchange plc and Director of International Development, LSEG said: "London Stock Exchange Group is a pioneer in supporting the growing global green and sustainable financing movement, developing innovative products and services in close collaboration with the market. We have a critical role to play and this new ESG guide is an important tool to encourage and assist issuers of all sizes to integrate ESG factors into their investor reporting and communication."
Martin Skancke, board chair for the Principles for Responsible Investment (PRI) said: "Institutional investors need investment grade ESG data to accurately inform their decision making and asset allocation. Exchange operators have a major role to play in supporting enhanced data disclosure so we commend the London Stock Exchange Group for their leadership towards improving dialogue and ESG data flows across the investment chain and call on other exchange groups to follow suit."
The aims of the new Guidance are to:
•    Make companies more aware of the importance of providing high quality ESG information, and engaging investors on sustainability-related issues
•    Stimulate interest in the innovation opportunities opened by this new economic paradigm
•    Help issuers and investors to navigate the complex landscape of ESG reporting
•    Enable richer data flows and dialogue on ESG between issuers and investors
•    Support the consolidation of sound global reporting standards
•    Enable investors to make better informed investment decisions
The global rise of ESG investing:
Over 1,500 signatories with over US$60 trillion assets under management have signed the United Nations backed Principles for Responsible Investment (PRI), a doubling of the assets pledged to PRI since 2011.* Signatories commit to a range of principles including incorporating ESG principles into investment analysis and decision making processes. Signatories also have to provide detailed annual reports on their progress in implementing the principles.
London Stock Exchange Group is a pioneer in supporting the growing global green and sustainable financing movement, providing a comprehensive green and sustainable product offering.
Download the guidance report (pdf)