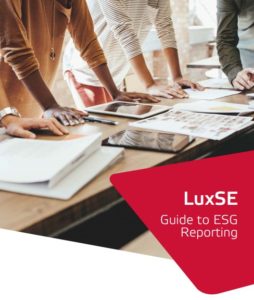 In line with its stated objective to promote transparent capital markets, the Luxembourg Stock Exchange (LuxSE) has published a set of comprehensive guidelines for reporting on Environmental, Social and Governance aspects (ESG).
Reflecting the unique diversity in its capital market ecosystem, LuxSE's ESG Guidelines address the specific scope and needs of its three main stakeholders: companies, issuers of sustainable debt instruments, and asset managers active in sustainable & responsible investment funds.
"We wanted to go beyond standard market practice and make available ESG Guidelines that would be relevant not just for companies that are in the process of incorporating ESG considerations into their decision-making, but also for issuers and asset managers. These stakeholders have a very different scope, and their ESG reporting therefore requires a different approach," explains Flavia Micilotta, Director of the Luxembourg Green Exchange.
Embracing ESG considerations
The increased focus on sustainable development and the transition to a more sustainable and inclusive economy have led to an uptick in investor demand for transparent and comprehensive ESG data.
"Information that was previously considered as non-financial information is now becoming increasingly critical in the financial evaluation of companies. This trend is becoming mainstream," adds Flavia Micilotta.
Corporate ESG reporting offers investors, future employees and other stakeholders a window into the quality of a company's management and the environmental and social impact of a company's activities. More and more companies share their approach to ESG matters in a transparent way with the public through ESG reports or sustainability reports. In this context, LuxSE's Guide to ESG Reporting offers a comprehensive description of the process to put in place and the different aspects to consider for the reporting.
Meeting investor demand
LuxSE's Guide to ESG Reporting constitutes a roadmap for companies, issuers and asset managers to integrate ESG considerations into business-decisions, and illustrates how different stakeholders can proceed to meet investor demand for transparent and clear ESG information. The broad scope of the guidelines—covering companies, issuers and asset managers—makes LuxSE's Guide to ESG Reporting unique.
These ESG Guidelines serve as a compass for users when identifying ESG activities and defining an ESG strategy. The guide furthermore covers the process for data collection and processing, and offers advice as for how to establish the most suitable reporting format, communication channels and reporting period.
The Luxembourg Stock Exchange is a member of the Sustainable Stock Exchanges (SSE) network of exchanges, a UN Partnership Programme. The overarching mission of SSE and its members is to encourage sustainable investing and enhance performance on ESG issues among a broad range of stakeholders.