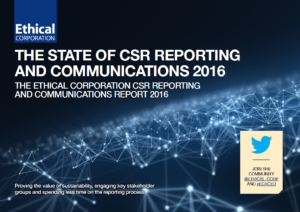 New research by Ethical Corporation shows that sustainability professionals need to prove the value of CSR Reporting. Ethical Corporation are calling for corporate sustainability professionals to increase engagement with their CFOs and prove the value of CSR following the results of the first ever State of CSR Reporting and communications Survey. The survey showed that only 25% of sustainability professionals believe that their CFO is absolutely convinced by the value of their CSR Report.
The survey asked 948 sustainability professionals to share their perspectives on the upcoming trends in CR Reporting, and aims to uncover the biggest challenges that sustainability professionals face in the reporting and communications process.
Commenting on the results, Steven Wade, Global Project Director of the 10th Annual CR Reporting and Communications Summit said "More work needs to be done in proving the value of sustainability reporting. There needs to be a shift from merely producing a report, to using reporting as a management tool that can help the business achieve its financial objectives."
He added "With the EC Non-Financial Reporting Directive, we should see an increase in financial stakeholders finding value in reporting, as a way to engage investors and protect their business against environmental, social and governance related risk."
The report outlines what the 3 biggest trends, challenges and opportunities will be in 2017 – as well as the topics which CSR Reporters aren't considering to be a priority. The results of the survey are available for free here.