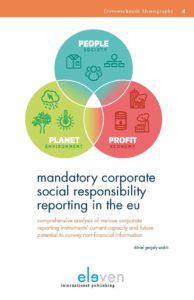 If you are interested in questions like "Are companies compelled to misrepresent their CSR efforts?" and "Who is there to stop them?", a new research book is available. The book "Mandatory Corporate Social Responsibility Reporting in the EU – Comprehensive Analysis of Various Corporate Reporting Instruments' Current Capacity and Future Potential to Convey Non-Financial Information" is authored by Daniel G. Szabo.
The book is also of interest to policy-makers who need to transpose the EU's recently adopted Non-financial Reporting Directive as well as to non-financial reporting professionals who would like to explore the underlying issues of preparing non-financial reports and understand to what extent legal requirements are enforceable.
Although non-financial or CSR-reporting has attracted increasing attention in the last decades, it only recently entered the legal discourse. This book narrows the gap between CSR reporting and legal disclosure requirements. It analyses financial, management, and corporate governance reporting, as well as other dedicated reporting types. The author investigates what legal framework underpins these disclosure types; to what extent these instruments mandate the disclosure of non-financial information; and if they have potential to expand the non-financial disclosure requirements. The findings suggest that mandatory non-financial reporting is less developed than expected, and that in the current state of development of the corporate disclosure systems it is not in the companies' best interest to engage in costly CSR programs just to be able to report on them. The book further recommends more narrow and elaborate disclosure obligations to achieve higher transparency in CSR matters that in turn would induce companies to become genuinely more responsible.
About the Author
Dr. Dániel Gergely Szabó, PhD, is a postdoctoral research fellow at Aarhus University, Denmark. He is currently appointed as a visiting scholar at University of California, Berkeley and is one of the board members of the CSR Legal Research Network. He has published peer-reviewed articles in the area of EU law and sustainability issues, and collaborated on several policy reports in the area of renewable energy in California.
Order you copy
You can order your copy of the book online: