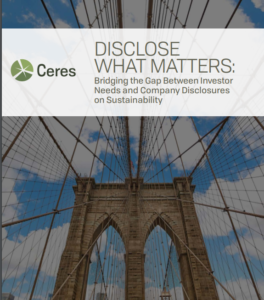 A new analysis of nearly 500 of the largest companies on the Forbes Global 2000 list finds that most companies are using comparable and industry-wide disclosure frameworks for reporting sustainability risks and opportunities.  However, the analysis finds that only a small percentage of companies  disclose the business relevance of these risks and opportunities, and only a handful provide third party assurance on these disclosures.
The analysis, Disclose What Matters, released today by the sustainability nonprofit organization Ceres highlights the gap that must be bridged by companies in order for investors to fully rely and act on decision-useful sustainability information.
"At the end of the day, certain environmental and social issues pose risks to business performance," said Veena Ramani, director of the Capital Market Systems program at Ceres. "To make the right decisions on these risks, investors need the right information — information that is comparable, relevant and reliable. Companies are making progress, but they can do more to connect the dots between disclosures and business decisions. Our analysis pushes companies to focus on not simply 'disclosing more' but 'disclosing what matters'."
Disclose What Matters assessed companies across five indicators valued by today's investors:
Disclosure Standards
Board oversight of sustainability
Materiality assessment
Stakeholder engagement
External assurance
With these indicators, the report found that sustainability disclosures of the 476 companies fell into three phases of maturity: comparability, integration, and reliability.
Seventy percent of the companies analyzed in this report used comparable disclosure frameworks such as the Global Reporting Initiative (GRI) standards, the defacto global standards for sustainability disclosure. However, the percentage of companies declined sharply when it came to providing disclosures that demonstrated the integration between their sustainability and business performance. Finally, hardly any companies provided detailed external assurance from third parties for their sustainability disclosures. Disclose What Matters reinforces the need for companies to provide comparable, integrated and reliable disclosures that meets the needs of investors and other relevant stakeholders.
​
Key recommendations include:
Commit to the complete use of sustainability reporting standards. The GRI standards are now part and parcel of many company disclosures. Companies can use the GRI as a stepping stone, but also look to other relevant disclosure frameworks that can better focus the information they must disclose.
Disclose the impacts of governance systems for sustainability. Companies have systems of governance that prioritize sustainability issues, but fail to connect these systems to financial impacts and subsequent business performance. Companies should provide relevant disclosures to bridge the gap.
Externally assure material sustainability disclosures. When companies are able to provide robust external assurance that match the level of rigor applied to financial disclosures, they signal to investors that these sustainability disclosures are in fact "investor ready."
Disclose What Matters comes as strong investor support for the new disclosure standards developed by the Task Force on Climate-related Financial Disclosures (TCFD) is ever increasing. The standards push companies to disclose how risks, like climate change, pose financial impacts to their business systems, strategy and performance.
"We are calling on more companies to improve their sustainability disclosures they can meet increased investor demand for strategic, transparent, and forward-looking information," Ramani added. "As this kind of information becomes more widespread, the market will reward companies that make management of sustainability risks and opportunities part of their long-term thinking and planning."