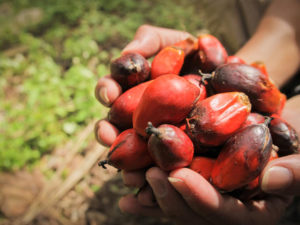 With rainforest destruction and forced labor urgent concerns in palm oil cultivation, a diverse group of NGOs and investor organizations releases today shared guidance for corporate reporting on company commitments towards responsible palm oil sourcing and production.
Collaboratively developed by over 18 organizations (see list below) with input from companies and civil society, the guidance document aims to inform corporate reporting and supply chain engagement. The diverse group, which encompasses a range of perspectives on the palm oil challenge, came together to develop the guidance to create consistency and clarity for companies in the palm oil value chain on reporting.
"Numerous companies are putting resources towards sustainable palm oil; yet, deforestation, land conflicts, and labor issues persist," said David Bennell, program director of the Food and Capital Markets Initiative at Ceres. "Transparency on supply chain practices is critical for all stakeholders, investors, civil society groups, and businesses, to understand and address the implementation gap."
Palm oil is the world's most abundant vegetable oil and a common ingredient in food and household products. In Indonesia, where nearly half of the world's palm oil is produced, forests and carbon-rich peat lands are being cleared faster than any tropical nation, accounting for as much as much as 79 percent of the country's greenhouse gas footprint.  Much of this impact is caused by the expansion of the palm oil industry.  Forced and child labor, as well as land rights violations are also widespread in the industry.
Many companies are actively working to address these issues and are beginning to communicate progress to a wide range of stakeholders.
"M&S recognizes the value of transparency as part of supply chain management and is working with industry partners to measure and compare performance of Growers, Processors and Traders in our supply chain," said Fiona Wheatley, sustainable business manager at Marks and Spencer, a British retailer. "This document guides companies towards reporting that is most meaningful and material to a wide range of stakeholders and contributes towards our collective goal of making palm oil production sustainable and deforestation free."
The guidance document offers recommendations for growers, processors and traders; manufacturers; and retailers. It covers topics including supply chain transparency, effective grievance processes, forced labor, smallholder engagement, and responsible land expansion.
"Oxfam is concerned about the palm oil industry's record on human rights and environmental protection, and believes that companies have an obligation and an opportunity to address these issues. Corporate actions and commitments must go hand in hand with meaningful transparency in order to facilitate implementation," said Aditi Sen, a senior policy advisor for Oxfam.
"The razing of rainforests and prevalent use of child labor in the palm oil sector create regulatory risks and hinder companies' social license to operate, which can threaten access to raw materials, production, and overall brand equity. Companies need to be transparent about how they are managing these risks so that we, as investors, can identify and measure them effectively," said Kate Kroll, shareholder advocate at Green Century Capital Management said.
Companies are encouraged to report the information outlined in the guidance document through existing platforms, such as CDP, the Roundtable on Sustainable Palm oil (RSPO) Annual Communication on Progress, and sustainability reports and dashboards.
Download the reporting guidance document here.