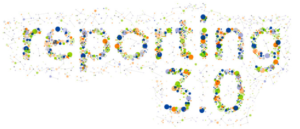 The conference hall at KPMG Headquarters in Amsterdam buzzed with excitement at the 4th International Reporting 3.0 Conference, where "positive maverick" experts gathered to outline an ambitious agenda for triggering the emergence of a regenerative and distributive global economy through reporting, accounting, data, and new business models.
For a quick sense of the event's zeitgeist, see the:
The Conference featured three plenary sessions with keynotes leading into panel discussions focused on the four Reporting 3.0 (R3) Blueprints on Reporting, Accounting, Data, and New Business Models.
Following a welcome by host Wim Bartels of KPMG and an introduction to the Reporting 3.0 Platform by R3 Co-Initiator Ralph Thurm, the first plenary session focused on the Reporting and Data Blueprints. Jonathon Porritt of Forum for the Future delivered the opening keynote, followed by keynotes from Claudine Blamey of The Crown Estate, Alyson Slater of the Global Reporting Initiative (GRI), and Neil Stevenson of the International Integrated Reporting Council (IIRC) and a lively panel discussion.
Following this, Reporting 3.0 released the final reports for these two Blueprints, with lead authors Ralph Thurm introducing the Reporting Blueprint (see the final published report here and a brief video intro here) and Bill Baue introducing the Data Blueprint (see the final published report here and a brief video intro here). Piggybacking on these intros, GRI Co-Founder Allen White provided a validation statement for each of the two Blueprints, in turn.
Following the release of each Blueprint were breakout sessions, organized along a maturity continuum from Educate (to set baseline understanding) to Advocate (for best practices) to Accelerate (the scaling up of solutions). Bridging the Blueprint releases was the screening of a video interview between Bill Baue of Reporting 3.0 and Kate Raworth of Oxford University about her new book, Doughnut Economics, that you can view here.
Kicking off Day Two of the Conference was the second plenary session, focused on the Accounting Blueprint, which projects what "new accounting" will look like in 20 years, with the integration of management, financial, and sustainability accounting. Host Wim Bartels of KPMG gave the opening keynote, followed by keynotes from Sarah Grey of IIRC, Rodney Irwin of the World Business Council on Sustainable Development (WBCSD), Nicolai Lundy of the Sustainable Accounting Standards Board (SASB), and Nancy Kamp-Roeland of EY and an interactive panel discussion.
Accounting Blueprint lead author Cornis van der Lugt introduced the first Exposure Draft of the Blueprint (video intro here), with validation by KPMG's Wim Bartels. Following this were Educate, Advocate, and Accelerate Breakout Sessions on next-generation accounting.
Bill Baue launched the third plenary session by introducing the New Business Models Blueprint, which will map out gaps and make recommendations on the communication needs for spurring new business model innovation – for both startups and transforming existing business models – to become fit-for-purpose in a regenerative and distributive economy. Carolyn Hayman of Preventable Surprises presented the opening keynote, followed by Nancy Bocken of TU Delft and Nathan Gilbert of B Lab Europe and a wide-ranging panel discussion.
Finally, R3 Co-Initiator Peter Teuscher of BSD Consulting introduced the future roadmap for Reporting 3.0, including the unveiling of OnCommons, the new non-profit entity established as a home for R3. To help launch 3 new program streams, he invited key Conference participants onstage to share about them:
Richard Marsh of BT introduced the Beta Testing Program, which pilots implementations of the Blueprint Recommendations via two participation levels:
The Basic option for companies that want to contribute to and learn from Working Group deliberations; and
The "Active" option for companies that want to pilot Blueprint Recommendations.
Glenn Frommer of ESG Matters introduced the Advocation Partner Program for consulting firms who work with companies to pilot R3 Recommendations in the Beta Testing Program; and
Nancy Bocken of TU Delft introduced the Academic Alliance, an opportunity for academic institutions to participate in the research and dissemination of the Reporting 3.0 Blueprints.
Bill Baue and Ralph Thurm will be representing Reporting 3.0 at events in the second half of this year, including the Sustainable Brands Copenhagen Conference (October 30-November 1) and New Metrics Conference (in Philadephia November 13-15). And R3 will convene its 5th International Reporting 3.0 Conference in June 2018!