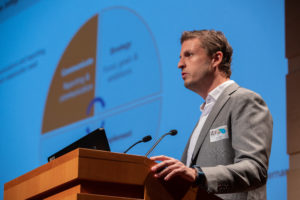 On October 4th Sustainalize and KBC Group joined forces to offer insights into the sustainability and non-financial reporting landscape, practical lessons from companies and other stakeholders' perspectives. The seminar was hosted at the KBC Group head office in Brussels, where more than 80 participants, representing different Belgian organisations, came to learn more about reporting non-financial information.
Nick de Ruiter (co-founder Sustainalize) sketched the landscape of sustainability reporting, showing the audience that over the years many different guidelines and frameworks have been developed.
Overlooking the next decade, Alain Deckers (Head of Unit, DG FISMA, European Commission) stressed that in working towards a European Green Deal, a Sustainable European Investment of over €1 trillion is needed. Part of this will need to be financed by the private sector, for which investors require high quality standardised sustainability information.
Katelijn Bohez (communications and investor relations manager at Bekaert) shared some of the reporting challenges she faced during her 30+ years of experience at Bekaert. These include maintaining a good reputation as a liable company and reporting ever more data. Her answer to these challenges are a clear aspiration and a decent management structure with sustainability targets deployed within departments.
During a panel discussion facilitated by Lola Debersaques (Partner Sustainalize), experts represented external stakeholders' interests and wishes for sustainability information. Aleksandra Palinska (Senior Regulatory Policy Advisor at EFAMA) raised attention for data quality: "The availability of quality sustainability information is the real problem. If publicly available at all, most data are not reliable, not standardised or comparable and of qualitative nature." A potential solution came from Hilde Blomme (Deputy CEO of Accountancy Europe): "With more than 1000 reporting frameworks a certain degree of standardisation is needed, as well as sectorial benchmarks and more top-down regulation."