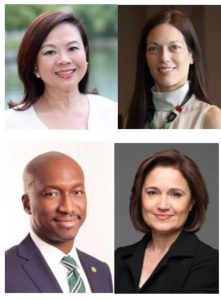 GRI, provider of the world's most widely used sustainability reporting standards, has announced changes to its Board of Directors. The appointments come at a time when corporate sustainability is high on the global agenda – reinforced by the impact of the pandemic and the need to quicken progress on the Sustainable Development Goals – all of which emphasize GRI's leadership role as an enabler for transparency and accountability.
The four new Board appointees, which take effect from January 2021, are:
Bola Adeeko – Division Head, Shared Services, Nigerian Stock Exchange (Nigeria)
Esther An – Chief Sustainability Officer, City Developments Limited (CDL) (Singapore)
Cristina Gil – Vice President Sustainability, Orbia (USA)
Marina Grossi – President of CEBDS (Brazilian Business Council for Sustainable Development) (Brazil)
Departing having served their terms are: Olaf Brugman (Rabobank, Head of Sustainable Capital Markets, Brazil); Özlem Denizmen (Dogus Group, Social Investments Executive VP, Turkey); Lance Gokongwei (President and Chief Executive, JG Summit Holdings,  Philippines); Connie Lindsey (Northern Trust, Executive VP and Head of CSR, USA); and Kevin McKinley (President and CEO, Canadian Wood Council, Canada).
Also announced today are appointments to the Global Sustainability Standards Board, the independent board that sets the GRI Standards, and the Stakeholder Council, GRI's multi-stakeholder advisory body.
Eric Hespenheide, Chair of the GRI Board, said: "Throughout all of our activities, GRI strives for multi-stakeholder and international representation, which reflects the global relevance and adoption of the GRI Standards. I am therefore pleased to welcome Bola, Esther, Gil and Marina – from four different continents and contributing a diversity of experience – to the Board. My thanks go to the departing board members for their service and commitment to GRI's mission over the past few years. Going forward, I am confident that our refreshed governance will continue to provide the strategic input and direction required to drive forward our work as the catalyst for a sustainable world."
Bola Adeeko said: "I am honored to be appointed to the Board of GRI, which remains the 'gold standard' in sustainability reporting. GRI has been an invaluable partner in advancing corporate responsibility in Africa, consistently deepening its engagement with stakeholders. I look forward to working with the Board and management team, to build on successes achieved so far in promoting sustainable business practices that deliver positive change."
Esther An said: "I am delighted to join the GRI Board as sustainability is now a mainstream business agenda. It's also a momentous time as leading frameworks have pledged to collaborate for harmonization of global reporting standards. By contributing my reporting experience, it's my hope to support the important work of GRI to raise the bar for strategic sustainability integration and transparency in the fast-growing Asian region."
Cristina Gil said: "The rigor GRI has brought to sustainability reporting is unparalleled, transforming how companies approach their commitments to transparency. This has been enabled by increasing and widespread adoption and recognition of the GRI Standards. What inspires me most is that GRI considers and values input from all stakeholders. I am honored and excited to be able to play a role in GRI's continued evolution."
Marina Grossi said: "It is a pleasure to be part of GRI Board at this critical moment. GRI has a crucial role in the decade of implementation, helping companies be more sustainable. We need to speed up the transition, align investors, companies and green projects towards a low carbon, more diverse, circular economy. We need to see new partnerships and build consensus and I will do my best to help GRI achieve this goal."
 Additionally, Volker Höntsch has been reappointed as Chair of the Due Process Oversight Committee. On GRI's Independent Appointments Committee, Helen Barton (Chair) and Bruno Bastit are both reappointed.