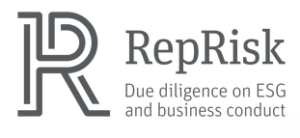 RepRisk, a global environmental, social, and governance (ESG) data science company, and the World Business Council for Sustainable Development (WBCSD), a global organization for sustainable development, are pleased to announce their partnership to provide ESG data for WBCSD's 2018 review of the sustainability reporting and performance of their member companies.
The annual Reporting matters publication showcases sustainability best practices and trends. The 2018 review cycle assessed 158 WBCSD member company reports against an 18 indicator framework. For the reviews in the 2018 publication, RepRisk data has been used in the evaluation of the Balance indicator, where issues of public interest are evaluated to see how companies are responding to – and managing – these issues.
"Balanced reports are transparent about the organization's risks, successes, failures, challenges and opportunities, now and in the future." says Rodney Irwin, Managing Director of Redefining Value at WBCSD. "Incorporating RepRisk data in Reporting matters provides us with a reliable source of information on ESG reputational risks associated with our member companies and allows us to flag on a individual basis the issues we expect companies to address in their sustainability reports."
"We are delighted to provide data for this prestigious publication," says Linard Campell, Executive Vice President Business Development at RepRisk. "ESG and business conduct risks related to human rights, labor, and corruption can translate into reputational, compliance, and financial risks for a company, and we encourage increased transparency."
RepRisk's research captures and analyzes information worldwide and in 20 languages from public sources and stakeholders external to a company in order to systematically flag and monitor material ESG risks. The RepRisk Platform, consisting of 100k+ public and private companies and 25k+ projects of all sizes, in every sector and market, is used by leading organizations as their key due diligence solution to prevent and mitigate risks related to their operations, business relationships, and investments.