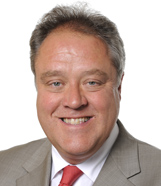 Global corporate reporting organization, the International Integrated Reporting Council (IIRC), today announces that its board of directors has appointed Richard Howitt, Member of the European Parliament (MEP), as its next Chief Executive Officer (CEO).  Mr Howitt will succeed outgoing CEO Paul Druckman on 1 November 2016 and will step down as an MEP to coincide with his appointment.
An MEP for over 20 years, Richard Howitt is an architect of the EU's non-financial information directive, one of the biggest transformations in corporate disclosure anywhere in the world.   He has been rapporteur on corporate reporting-related issues, including social responsibility, for many years.
As lead-MEP on corporate responsibility, Mr Howitt has represented the EU on many missions worldwide, travelling extensively in Asia, Africa and the Americas.  He has represented European interests in numerous international initiatives, including the UN Business and Human Rights Forum and the OECD Forum on Responsible Business Conduct.
For five years, Mr Howitt has acted as a voluntary IIRC Ambassador, promoting integrated reporting within the policy and business communities.  The International Integrated Reporting Framework has been adopted by over 1,000 businesses globally and the IIRC has been successful in driving change in corporate reporting in more than 25 countries.  Richard Howitt becomes CEO to implement the IIRC Board's recently approved new strategic plan to embed integrated reporting principles within corporate governance practices worldwide.
Barry Melancon, Chairman of the IIRC Board, said, "Richard Howitt is one of life's change-makers.  He is a policymaker with a proven ability to get results.  Richard's appointment cements Paul Druckman's remarkable legacy, while ensuring the IIRC is well positioned to deliver the next phase of its strategy with an even greater level of impact and success".
Commenting on his appointment as IIRC CEO-designate, Richard Howitt said, "Europe has been my platform for influencing major international initiatives and processes for more than 20 years, bringing me into contact with businesses, investors, policymakers and other stakeholders internationally.  It will be a great privilege to apply this experience in a truly international role and I am excited to be joining such a dynamic and effective team.
"It is with this experience behind me that I say with great confidence that integrated reporting is the single best global antidote to the spread of short-term risks that has plagued our capital markets with uncertainty and volatility, causing harm to economies, businesses, society and, yes, the environment.  A lost generation of progress is not a price any of us should be willing to pay".
"I feel this role is a culmination of two decade's worth of advocacy for higher levels of corporate transparency, governance and reporting to deliver a new bargain between business, capital markets and society.  Paul Druckman has been my good friend and colleague and I pay tribute to his leadership over the last five years.  I know he will stay actively engaged in our movement in the years ahead".
Formed in 2011, the IIRC is a global coalition of regulators, investors, companies, standard setters, the accounting profession and NGOs.  The coalition is promoting communication about value creation as the next step in the evolution of corporate reporting.