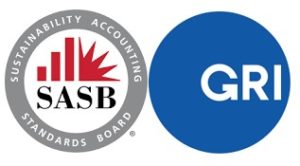 Following the launch of a collaborative workplan between Global Reporting Initiative (GRI) and the Sustainability Accounting Standards Board (SASB), the standard-setters are working together to develop materials that show how the two sets of reporting standards can be used together.
This project, which was announced in July, seeks to bring greater clarity to the sustainability reporting ecosystem and address perceptions of a high reporting effort facing organizations. The materials under development will help stakeholders better understand how our standards are being used concurrently, sharing lessons to help both reporting companies and data users.
As a next stage in the collaboration, a joint survey has been launched by GRI and SASB, with your input requested to help us understand current experiences by organizations that use either or both sets of standards for their sustainability reporting.
This short survey is open for one month – until 23 October – and feedback is sought from reporting organizations only. Please take the time to contribute your views.
The survey findings will inform the next stage in the GRI and SASB workplan, with an expectation for the new resources to be made publicly available before the end of this year.