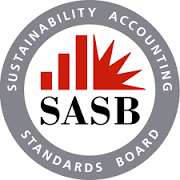 SASB launched today a complete set of 77 industry-specific sustainability accounting standards! The objective of the SASB standards is to enable companies around the world to identify, manage and communicate financially-material sustainability information to their investors.
The standards are the culmination of six years of research and input from the market, and today is an historic milestone we share with all those who have participated in SASB's standards-setting process. All of us at SASB are very grateful and we thank you for supporting our progress over the years.
To download any of the 77 industry-specific standards, visit www.sasb.org.