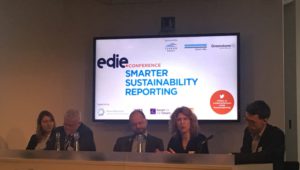 Sustainability reporting frameworks should be developed to encourage businesses to compete on performance and attract investors rather than simply being used as compliance mechanisms, a panel of experts have agreed.
The World Business Council for Sustainable Development (WBCSD), construction firm Carillion, carmaker Jaguar Land Rover (JLR), and banking firm Barclays were discussing the future of sustainability reporting at edie's Smarter Sustainability Reporting Conference in London on Wednesday (1 March).
The speakers agreed in their panel discussion that a growing interest in climate risks from the financial sector is changing how companies use their sustainability reports. They implored other businesses to separate their data and stories in their reports, in order to appeal to a variety of stakeholders.