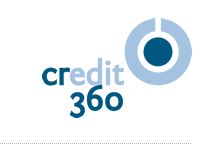 The Sustainability Accounting Standards Board (SASB) today announced leading sustainability software provider credit360 as a partner in the SASB Enterprise Resource Platform Program.
Companies use credit360's leading sustainability software to access SASB disclosure guidance, collect and compile data for SASB reporting, and maintain the data for auditors to view and assess accuracy. A recently published HBS study, found that companies that invest in material sustainability factors-as classified by SASB's disclosure topics-enjoy significantly higher accounting and market returns.
"As investor demand for comparable environmental, social, and governance (ESG) disclosure increases, businesses can benefit from standardized metrics and efficient technical solutions," says Dr. Jean Rogers, SASB CEO and Founder. "Our partnership with credit360 will help companies use SASB standards to comply with Regulation S-K and improve their disclosure effectiveness as well as sustainability performance."
Efrain Quiros, VP of Partnerships, credit360, adds: "As many companies seek to apply more rigor to the management and disclosure of the non-financial information that is material to their business, credit360 was keen to partner with SASB to make this reporting standard and technical solution available for our clients. SASB metrics enable our customers to measure, manage, and report the sustainability data most essential to value creation."
credit360's integrated software solution empowers companies to capture accurately, manage, and report the sustainability and EHS information needed to drive performance across all business areas and enhance shareholder value. The credit360 Corporate Reporter tool streamlines the process of requesting, reviewing, and collating responses in-line with various reporting frameworks and provides a central online framework repository to cover all sustainability reporting needs.