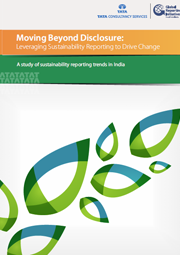 Tata Consultancy Services (TCS), a leading IT services, consulting and business solutions organization, today announced the launch of the Moving Beyond Disclosure: Leveraging Sustainability Reporting to Drive Change, a study undertaken in collaboration with GRI, the developer of the world's most widely used Sustainability Reporting Guidelines.
The report carried out jointly by GRI Focal Point India and TCS provides insights into the development of sustainability reporting in India.  It has also looked at understanding of how Indian businesses are linking sustainability to strategy, operations, overall performance, stakeholder engagement and establishing credibility in the market. The report presents observations based on a series of one-on-one meetings along with the survey of the companies.
The study has helped to identify a number of trends in the Indian reporting landscape. Though Indian companies are adopting the practice of sustainability reporting, there is a strong emphasis on community development programs, while environmental and governance initiatives take a back seat. The study also indicates an increasing level of maturity across reports, with leading companies being spurred on by peers to cultivate a culture of transparency, while deepening ties with stakeholder groups.
"At GRI, we see sustainability reporting as a strategic tool: a process that presents significant opportunities for Indian businesses to grow in a manner that also benefits their stakeholders," said Aditi Haldar, Director of GRI's India Focal Point. "As many companies are in the process of making the transition from previous versions of the Guidelines to G4, GRI and Tata Consultancy Services saw this as an ideal moment to assess how companies are moving beyond merely disclosing data and beginning to assimilate the reporting process into all aspects of operations."
"Sustainability Reporting has been evolving as a way to communicate the value – economic, ecological and social that the company is delivering to shareholders and society. TCS has partnered with GRI to highlight the new framework and bring about the transformation," said Girish Ramachandran, President, Asia Pacific, Tata Consultancy Services.
To download Moving Beyond Disclosure: Leveraging Sustainability Reporting to Drive Change please visit GRI's Resource Library here.