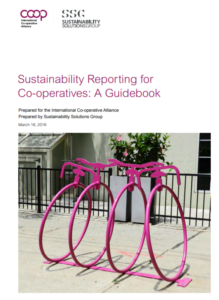 The International Co-operative Alliance has published a new guide for co-ops on sustainability reporting.
The Alliance's updated Sustainability Reporting for Co-operatives: A Guidebook, builds on the organisation's reports on the Sustainability Scan and Co-operative Growth for the 21st Century.
It also includes the feedback of primary co-operatives around the world from its Sustainability Advisory Group, and is aimed at co-ops that are new to reporting on co-operative sustainability, as well as those looking to take their reporting one step further.
While a number of co-operatives have led in the development and deployment of sustainability reporting, in general co-operatives lag behind, as was found when the top 50 of the largest 300 co-operatives were compared to the top 50 Fortune 500 IOCs.
"The Co-operative Values and Principles codify a particular concept of community wealth and prosperity – one that has recognised economic, social, and environmental criteria in symbiosis long before the coining of 'the triple-bottom-line'," says the guide.
"It is a story that needs to be told and sustainability reporting can contribute to telling that story."
Download the publication (pdf)