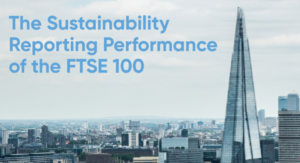 In the latest report, EcoAct (Carbon Clear) presents their research into the environmental sustainability reporting trends within the of the UK's largest companies.
Download the report to find out how companies are managing climate risk and future proofing business operations; innovating to maximise on energy and emissions reductions opportunities; responding to legislation and investor calls for action; and shifting towards a low-carbon economy.
We present the FTSE 100 sustainability leader table, which ranks companies on their performance, acknowledging the pioneering climate leaders.
15% of companies align to the recommendations set out by the Task Force for Climate-Related Financial Disclosure
73% of companies disclose Scope 3 emissions.
Science-based target commitment has more than doubled since 2017
31% of companies have a plastic reduction initiative
Download the report (on request)