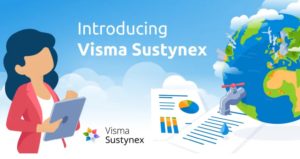 Today, Visma Connect, the specialist in reporting technology , is proud to announce the launch of Visma Sustynex, the world's first cloud native  platform for ESG Disclosure that uses a GRI taxonomy to deliver high data quality and accuracy. A lot of companies are doing great on sustainability, but not many can prove it with numbers and figures. Visma Sustynex gives them quantifiable proof. It also helps regulators and other requesting parties track progress towards sustainability objectives.
Helping companies become stewards of sustainability
Companies have a momentous role to play in addressing climate change and social inequalities, but how they report on Environmental, Social, and Governance (ESG) is far from perfect. Preparing sustainability reports is very time-consuming and labor-intensive. Unlike financial reporting, which is based on widely recognized standards, most companies don't follow a single set of standards for non-financial reporting. This is why most companies spend months preparing a yearly sustainability report and are not able track progress and improve ESG policies on a more regular basis. Visma Sustynex addresses this challenge and helps companies become stewards for sustainability. The use of GRI standards on the platform also makes sustainability reports easier to audit.
Visma Sustynex's GRI taxonomy allows organizations to create reports with up to 2,400 different elements in 6 major categories. The taxonomy is the dictionary that governs these data concepts (definitions) and their relationships. Concepts range from universal standards on companies' management approach and general disclosures, to supplier environmental assessments, environmental compliance, impact on biodiversity, water and effluents, occupational health and safety, human rights, non-discrimination in hiring practices, and more.
How it works
Visma Sustynex offers four main components:
A prepare and submit portal for manually entering sustainability reports;
An API Connector to integrate the platform with ERP, HR and other systems, allowing for automated data collection;
A receiving portal, which can be used by stakeholders such as government authorities, investors and supply chain partners to receive sustainability reports;
A taxonomy based on GRI standards, which ensures the accuracy and consistency of the data.
The output of the platform is a standardised report. Since the reports are consistent and validated, they can then be used periodically for comparison and benchmarking.
Benefits for reporting and requesting parties
Visma Sustynex offers many benefits for companies that need to disclose their ESG efforts. For one, they can save time and costs in creating an ESG report with automated data transfer. The quality of reporting is also much higher, given the underlying standards. Furthermore, companies can get real-time data to improve their ESG policies in a more timely way.
The platform is also interesting for requesting parties like capital providers, regulators and government institutions. They get qualified and accurate data that is based on an international standard, and can easily track and benchmark data from multiple reporting parties.