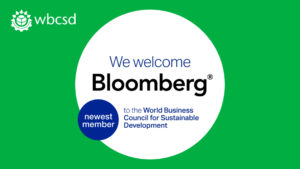 Bloomberg joined recently over 200 forward-thinking companies as the newest member of the World Business Council for Sustainable Development (WBCSD).
Bloomberg has been a long-standing advocate of integrating sustainability considerations into investment and business decisions. Bloomberg's leadership in developing decision useful sustainability disclosure standards through the Sustainability Accounting Standards Board (SASB) and the FSB Task Force on Climate-related Financial Disclosures (TCFD) has been instrumental in driving widespread and mainstream recognition of sustainability as a fundamental business issue.
Peter T. Grauer, Chairman of Bloomberg, stated, "Bloomberg was founded on the principle that better information leads to better decisions. This certainly extends to sustainability, where we have led multiple initiatives to improve climate-related disclosures and make ESG data more readily available to investors. We look forward to working with and learning from the WBCSD's broad membership base to share and build on our experience across sustainability, ESG and climate risk disclosure."
Peter Bakker, President and CEO at WBCSD, welcomes the partnership, "Information is powerful – especially in the field of sustainability. Welcoming Bloomberg to WBCSD will bring new perspectives from the information and financial services sectors. In working with Bloomberg, we look forward to leveraging their experience to continue building momentum for sustainability in 2017 and beyond."
Bloomberg integrates sustainability considerations into everything it does. ESG data is available via the Bloomberg Professional service allowing financial professionals to incorporate sustainability factors in their investment decisions, while Bloomberg New Energy Finance provides in-depth data and analysis on emerging energy technologies. Operationally, Bloomberg has successfully demonstrated the business case for sustainability, achieving emissions intensity reductions of nearly 40% and saving $95 million in net savings since 2007.