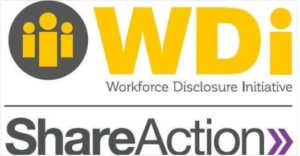 Global companies that employ nearly 3.5 million people, with millions more working in their supply chains, have started to respond to calls for better workforce data – a request aimed at improving the quality of jobs worldwide and addressing poverty in less developed countries.
A coalition of nearly 100 investors with over $10 trillion AUM – including the likes of Amundi, Legal and General Investment Management, AXA, APG, Union Investment, Nordea, BMO Global Asset Management and Australian Super – asked listed companies to disclose information about how they tackle challenges and harness opportunities in their direct operations and supply chains.
The requests were made through ShareAction's Workforce Disclosure Initiative (WDI), seeking data from companies on how they manage issues like diversity, health and safety, precarious contracts, and worker voice. The WDI's ultimate goal is to improve the quality of jobs in the operations and supply chains of multinational companies, which would contribute towards poverty alleviation and the delivery of Sustainable Development Goal 8 – 'decent work for all'.
Investors increasingly recognise that a key step towards securing fair conditions for all workers is better information from companies about how they measure progress related to workforce issues and what they perceive to be barriers to better work. In response to the investor call for transparency, nearly half of the targeted companies shared workforce data.
The first report from the Workforce Disclosure Initiative will be launched today at an event with a keynote speech by Harriett Baldwin, Minister of State for the UK's Department for International Development (DFID), which funds the pilot phase of the project. The WDI is run in collaboration with Oxfam and SHARE. Companies that participated in the first year of the Workforce Disclosure Initiative included Associated British Foods, AstraZeneca, British American Tobacco, H&M, Inditex, Microsoft, Sainsbury's and Vinci.
However, the fact that 55% of the companies approached did not disclose information to the WDI pilot survey confirms that workforce transparency must remain a high priority for investors. Sustained stakeholder attention to these issues is needed, so that companies do not opt out of being candid in their public reports about what they are doing to safeguard and value their workforce.
Stephanie Maier, Director – Responsible Investment, HSBC Global Asset Management, said: "Human capital is a key component of corporate success but disclosure is limited. We are active supporters of the Workforce Disclosure Initiative as we believe that the insights obtained from this pilot – seeking meaningful disclosure on workforce composition, stability and development and engagement – can lead to better understanding, guidance and practice in terms of reporting on this crucial area."
The WDI's pilot year analysis reveals that most companies report having robust policies on issues like pay, diversity and recruitment practices. There were, however, far fewer disclosures on actions taken to implement these policies and how companies monitor the outcomes.
For instance, more than 90% of disclosing companies said they are committed to engaging with suppliers on wages, but less than 10% of those provided examples of how their engagement had resulted in improvements to workers' pay. Similarly, only one in eight companies disclosed actions they were taking to live up to their policies on increasing diversity in the workplace.
Other findings from the report include that internal accountability for workforce issues often lack clarity – only a handful of responding companies were explicit about key performance indicators for Board members that link to workforce management.
The WDI investors are keen to access meaningful and comparable data so they can use it to engage with firms on how they manage risks and opportunities related to one of a company's key assets: its workforce. An appropriately skilled and motivated workforce is vital to business performance, while poor labour standards present significant risks to companies. Without close attention to issues such as pay and recruitment, risks such as exploitation and modern slavery can go unaddressed.
Liza McDonald, Head of Responsible Investment with First State Super said: "We believe integrating ESG issues into our investment process will lead to favourable long-term outcomes for our members. Disclosure regarding the management of environmental risks and their governance practices, is well-established, however there is little disclosure on how companies are managing their workforce and supply chains. By collaborating with other investors through the Workforce Disclosure Initiative we want to encourage companies to start reporting on these material issues".
Minister of State for the Department for International Development Harriett Baldwin said: "The UK is determined to end modern slavery, workforce exploitation and dangerous conditions in global supply chains so that everybody can earn a decent, safe and fair wage. Today I am supporting calls for more companies to improve transparency in this vital area. I want us to work together with the private sector to build a future in which inclusive economic growth and quality jobs can end poverty."