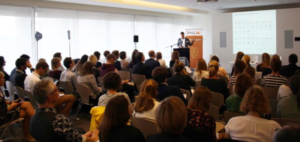 On Friday October 12th Sustainalize and ING Belgium organised the informative seminar 'The future of non-financial reporting'. After two successful editions in the Netherlands, it was the first time the seminar was held in Belgium. Over sixty people from mainly Belgian organisations joined us at the ING Belgium headquarters in Brussels to learn more about non-financial reporting.
"Now that we are present in Belgium for almost two years, we have a good idea of the current developments and challenges our Belgian clients see when it comes to non-financial reporting. We believe it is part of our social responsibility to bring these experiences together and to share our knowledge." – Lola Debersaques, Sustainalize
Vanessa Temple, head of corporate clients at ING Belgium hosted the seminar, which consisted of four keynote speakers, a panel discussion and the choice of one out of three workshops.