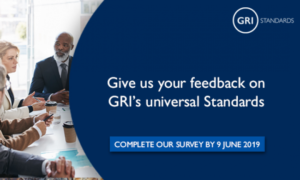 The Global Sustainability Standards Board (GSSB), the independent standard setting body of GRI, is launching a project to review the universal Standards.
The review will consider revisions for the three universal Standards that are applicable for every organization preparing a sustainability report: GRI 101: Foundation 2016, GRI 102: General Disclosures 2016 and GRI 103: Management Approach 2016.
An online survey is now open until 9 June, to enable stakeholders to provide feedback on the current universal Standards to inform the review of them.
We encourage all of our stakeholders to contribute by completing the survey. In particular, we would welcome feedback from:
Reporting organizations (those who prepare GRI Standards reports);
Consultants (those who assist others preparing reports);
Assurance providers (those who assure information in reports);
Report users (those who use information in reports for analysis or evaluation; purposes – such as investors, rating agencies, academics, government bodies);
Training providers (those who train others on the use of the GRI Standards).
The survey results will help GRI understand current reporting practices and challenges in applying the universal Standards. It includes questions about the in accordance criteria, reporting principles, management approach, and general disclosures, as well as the overall clarity and accessibility of thestructure and presentationof the GRI Standards.
For more information, visit the project page or contact the universal Standards team.