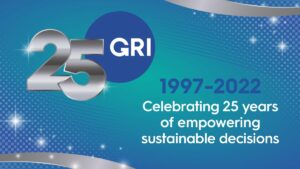 This month is a landmark moment in the history of GRI – provider of the world's most widely used sustainability reporting standards – as the organization reaches its 25 year anniversary. The publication 25 Years as the Catalyst for a Sustainable Future charts GRI's journey so far, including the evolution of sustainability guidelines and standards, their role in achieving corporate accountability for the sustainable development agenda, to GRI's influence on policy development and the emerging corporate reporting landscape we see today.
In 1997, meaningful consideration by companies of their socio-environmental impacts was a rarity and two-thirds of large businesses did not produce a sustainability report. GRI has been central in the mainstreaming of sustainability reporting as a practice that any responsible organization is expected to commit to. In 2022, almost all large multinational companies do so – with three-in-four using the GRI Standards.
Speaking from New York during UN General Assembly week, where GRI was established 25 years ago, GRI CEO Eelco van der Enden said: "In reaching this milestone, GRI can look back with some pride on how far we have come. Our Standards have become the enabler for multi-stakeholder accountability for impacts by companies around the world – with reporting that is based on facts, not perceptions. Yet our journey is far from over. We need to continue to drive up consistency in reporting, ensuring that transparency and dialogue is effectively and quickly translated into tangible action that unlocks sustainable outcomes. Going forward we will redouble our efforts, working in collaboration with global partners, to achieve this aim. That is our continuing mission for the next 25 years."
Key stakeholders have reflected on GRI's legacy over the past quarter of a century – and the growing relevance of the GRI Standards in advancing the sustainability and ESG agenda.
Allan Jorgensen, Head of the OECD Centre for Responsible Business Conduct, said: "GRI stands out as a true pioneer of the sustainable business movement. Its work, standards, and multi-stakeholderism have become a global reference point for where business is and where it needs to be. The next 25 years will only see increasing urgency. The OECD looks forward to cooperating with GRI on shaping business conduct that works for people, planet and society."
Kevin Dancey, CEO, International Federation of Accountants (IFAC), said: "On behalf of the global accountancy profession, IFAC salutes GRI and its long-standing commitment to transparency in sustainability reporting, for the good of all stakeholders. Over the course of its 25-year history, GRI has never wavered from its vision of enabling a sustainable future enabled by transparent and open dialogue about impacts, and we look forward to continuing to work together."
Gerbrand Haverkamp, Executive Director of the World Benchmarking Alliance, said: "Over the past 25 years, GRI laid the groundwork that allowed organisations like the World Benchmarking Alliance to emerge and build upon. We look forward to continue working together with GRI as we seek to close the corporate accountability gap."
Paul Raskin, President of the Tellus Institute (one of GRI's co-founding organizations): "Tellus Institute is proud to have played a central role in conceiving and shaping GRI. The partnership was based on a suite of shared values, including accountability, inclusiveness, transparency, and transformative change that underpinned GRI's emergence as a leader in sustainability reporting, and must endure as it confronts the challenges of the next 25 years."
Janet Ranganathan, Vice President for Science and Research, World Resources Institute – and a member of the first GRI Steering Group, added: "Participating in the founding Steering Group was a seminal experience. I learned the art of creating voluntary standards through multistakeholder processes. It inspired GHG Protocol and countless other efforts. I made life-long friends. GRI's legacy is expansive, durable, and mission critical. Congratulations on 25 years of advancing corporate responsibility and accountability."
Folkert van der Molen, Van der Molen Environmental Internet Services (long-term GRI supporter, The Netherlands)":  Twenty-five years! In 1997, the year that GRI was founded, non-financial reporting was only about environmental matters. I congratulate GRI on their successful and impactful initiative to develop a standard not just for environmental, but for "Triple P" reporting. Non-financial reporting is here to stay! I am also proud to have contributed to moving the GRI headquarters to Amsterdam in 2002.
GRI is encouraging reporting companies and supporters to reflect on their experiences with GRI over the past 25 years – and their hopes and ambitions for the organization going forward. A public felicitation wall has launched where anyone can add their comments.