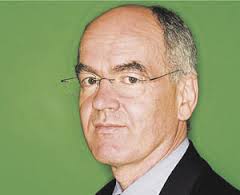 Today, GRI announced the appointment of sustainability thought-leader and author John Elkington as chairman of the recently established GRI Technology Consortium. John will lead the group and provide his extraordinary vision of a future where business works at the intersection of sustainability, entrepreneurship and innovation.
The GRI Technology Consortium was launched in December 2015 with the aim of convening the world's technology leaders to promote a conversation about how sustainability data and information can transform both business and policy decision making. The consortium brings together over 30 technology leaders, who share the common goal of creating innovations from data and bringing the sustainability movement into the digital age. The consortium will highlight current and future solutions that use sustainability data to enhance decision making for both business and government. The group meets every quarter and through working groups, focuses on topics related to the liberation of data, to create an environment in which solutions to sustainability challenges are being brought to market.
"Annual reports have been the main focus to date, but the digital revolution will disrupt this field, too," Elkington said. "Companies producing printed sustainability reports are like saddle makers thinking they were sitting pretty as the first Model T rattled around the corner. The Consortium is tapping some of the most radical innovators on the planet to help ensure that sustainability reporting is fit for the future."
John Elkington, has been Chairman of Volans since 2008, and helped pioneer the modern era of corporate reporting. He co-founded Environmental Data Services in 1978 to investigate how business was handling safety, health and environmental issues. In 1987, John co-founded SustainAbility, where he coined the term 'triple bottom line' in 1994, and led the firm as it helped define the international sustainability reporting agenda.
"John Elkington is an international authority on corporate responsibility and sustainability and I am honored to collaborate with him on this initiative," said GRI Chief Executive Michael Meehan. "GRI has been mapping out the next era of corporate disclosure with our Sustainability and Reporting 2025 project and we are excited to launch the next phase of this project with the GRI Technology Consortium, which will helps us leverage data and technology to make this vision of the future a reality."
The GRI Technology Consortium will be featured at the upcoming 5th GRI Global Conference in May 2016 in Amsterdam. John Elkington and members of the consortium will present the group's initial findings and recommendations and will seek the input of GRI's global community.