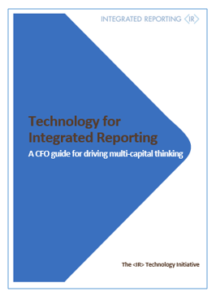 Participants in the <IR> Technology Initiative developed the new guide 'Technology for Integrated Reporting' for CFOs. The guide offers practical assistance for Chief Financial Officers (CFOs) seeking to collaborate with chief information officers to craft technology capabilities that support and enable next-generation business management and reporting practice.
It shares some of the practical things that companies are already doing to change the way they work, and introduce a new information culture that can help them successfully navigate the fast-changing business environment.
To succeed, business thinking, management and reporting depends on broader information sets and quicker, more sophisticated ways of analyzing the material information for effective decision-making. This requires the application of technology to transition from the largely financial model of management practice and corporate reporting to an integrated view that supports business resilience.
You can download the guide here (pdf)