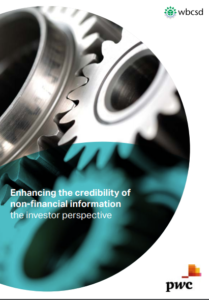 The World Business Council for Sustainable Development (WBCSD) and PwC released a new report focused on what investors need in order to make decisions that consider non-financial information – that is, information outside of financial statements including environmental, social and governance (ESG) metrics.
The report, titled "Enhancing the credibility of non-financial information," highlights that investors have an appetite for using non-financial information to make capital allocation decisions, but they have difficulty in assessing how much they can rely on that information, especially where there are no evident trends in the data.
The report is the product of a series of roundtables and interviews with over 50 investors across Frankfurt, Hong Kong, Johannesburg, London, New York, Sao Paulo, Tokyo, Toronto, Denmark, the Netherlands, India and Australia.
The goal behind the research was to understand which aspects of non-financial information are most useful to investors and their processes, how they use this information and what can be done to improve the confidence in the information reported.
The answer among interviewees was almost unanimous: non-financial information is used for investment decision-making because it,
Helps give context to financial information
Helps investors to understand corporate governance
Identifies risks and opportunities
Provides insight into the long-term sustainability of the business
Despite its usefulness, investors say it's not always clear how much they can trust non-financial information. Because of this, many emphasized that external assurance is worth the cost when the information being assured is relevant to decision-making.  In other words, investors said, third-party independent assurance helps strengthen confidence in reported information.
The report released today is designed to inform the work of standard setters and regulators to improve the relevance and reliability of non-financial information. It will also help companies understand how to give investors more confidence in non-financial information.
Download the report here (pdf)