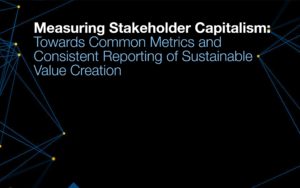 The World Economic Forum announces today the continued growth of the coalition of companies supporting the Stakeholder Capitalism Metrics initiative. Since January 2020-2021, over 100 companies have shown support for this initiative with over 50 already including the metrics in their 2020-2021 reporting materials. Drawn from existing standards, the Stakeholder Capitalism Metrics provide a set of metrics that can be reported on by all companies, regardless of industry or region. The metrics also offer comparability, which is particularly important for informing ongoing efforts to create a systemic, globally accepted set of common standards for reporting on sustainability performance.
"We are delighted to see so many companies joining this effort and, even more so, excited to see many already implementing the metrics into their reporting," said Olivier Schwab, Managing Director, World Economic Forum. "This is the first time we have publicly seen this breadth of data from global companies across sectors on ESG factors. The Stakeholder Capitalism Metrics are already demonstrating that consistent and comparable ESG reporting can help articulate to stakeholders the collective contribution of ESG commitments."
The World Economic Forum is currently a member of the IFRS Foundation's Technical Readiness Working Group, which is providing technical proposals to enable a running start for the potential International Sustainability Standards Board (ISSB) under the IFRS Foundation's governance structure to be announced by COP26. The Stakeholder Capitalism Metrics are a key input to this work and serve as an important preparedness tool for companies until global sustainability-related disclosure standards are established.
An early analysis of reports already incorporating the Stakeholder Capitalism Metrics in mainstream reporting demonstrates that it is now easier to consistently measure individual company progress against critical ESG areas, as well as the collective impact of those companies committed to reporting the Stakeholder Capitalism Metrics. An initial analysis of the first reports indicates the power of cumulative impact from the private sector together.
The emerging picture of the scale in which business is contributing to society is positive. An initial analysis of the first 45 reports from companies shows how companies are building skills for the future, with over $1.5 trillion invested in training. They also indicate that companies are innovating for better products and services, with over $20 trillion spent on R&D and $23 trillion in cumulative multi-year innovation investments. Lastly, they are contributing to their communities and social vitality with nearly $140 trillion in taxes.
Building trust and transparency
In today's context, businesses are facing increasing pressure to deliver sustainable prosperity while minimizing their climate impact, engaging a diverse workforce and many other deliverables. The Stakeholder Capitalism Metrics allow businesses, across industries, to measure, manage and disclose their impact on these ESG factors effectively.
Further benefits, as relayed by the companies, also include the ability to communicate through reporting. A company's performance and progress can enact change within the organization, secure investments upfront to reduce future costs and gain efficiencies in the long term and increase transparency to build trust with stakeholders.
Companies have also faced some challenges reporting on the Stakeholder Capitalism Metrics. These include data accessibility, jurisdictional challenges and data-processing capabilities. Despite these challenges, corporate support for ESG reporting and the Stakeholder Capitalism Metrics initiative continues to grow and the Forum will continue to invite all of its partners to join this initiative.
Companies that have committed to the metrics since January 2021 include:
Allied Irish Banks
ALROSA
Bain & Company
Biogen
Crescent Enterprises
Crescent Petroleum
Diligent Corporation
Enel SpA
Engro Corporation
EQT
Ericsson
Galp
Gingko Bioworks
Hanwha Asset Management
Henry Schein
Hyundai Motor Group
Intesa Sanpaolo
Koç Holding
Mitsubishi Heavy Industries
Nasdaq
Norilsk Nickel
Occidental
Olayan Financing Company
Olayan Saudi Holding Company
Orkla
PETRONAS
PTT
SAP
SOMPO Holdings
Standard Chartered Bank
Swiss Re
Trafigura
Wipro
The full list of committed companies can be found here.
The full list of the reports issued by the companies to date can be found here.
Newly committed companies join others in the coalition in committing to:
Reflect the core metrics in their reporting to investors and other stakeholders (e.g., annual report, sustainability report, proxy statements, or other materials) by reporting on the metrics most relevant to their business or briefly explaining why a different approach is more appropriate
Publicly support this work and encourage their business partners to do so
Promote the further convergence of existing ESG standards, frameworks and principles to support progress towards a globally accepted solution for non-financial reporting on common ESG metrics
They also signal that the business community will continue to catalyse greater cooperation and alignment among existing standards and encourage progress on the development of a systemic, globally accepted set of common standards for reporting on sustainability performance.
About the Measuring Stakeholder Capitalism initiative
In August 2019, at the request of its International Business Council, the World Economic Forum collaborated with Deloitte, EY, KPMG and PwC in a project to identify a set of universal metrics and disclosures – Stakeholder Capitalism Metrics – deliberately drawn from existing standards and focused on the four themes of principles: governance, planet, people and prosperity.
In September 2020, following a six-month consultation process with over 200 companies, investors and interested parties, the project published a refined set of 21 core and 34 expanded metrics and disclosures in its report Measuring Stakeholder Capitalism: Towards Common Metrics and Consistent Reporting of Sustainable Value Creation.
Since then, the Stakeholder Capitalism Metrics initiative seeks to improve the ways that companies measure and demonstrate their performance against ESG indicators and to enable positive contributions towards achieving the Sustainable Development Goals (SDGs). The project's twin objectives are to accelerate convergence among the leading private ESG standard-setters and to bring greater comparability and consistency to the reporting of ESG disclosures.
The World Economic Forum also supports global alignment to realize fair and effective reporting framework as part of the IFRS Foundation Technical Readiness Working Group supporting the possible establishment of the International Sustainability Standards Board (ISSB). The Forum will contribute its platform to convene the stakeholders and collect feedback and input to inform the process. Other members of the group include the Climate Disclosure Standards Board (CDSB), Financial Stability Board's Task Force on Climate-related Financial Disclosures (TCFD), International Accounting Standards Board (IASB) and the Value Reporting Foundation (VRF).
In an open letter shared with the IFRS Foundation in March, Brian Moynihan, CEO and Chairman of Bank of America and Chair of the International Business Council, and Klaus Schwab, Founder and Executive Chairman of the World Economic Forum, endorsed the acceleration of efforts by the Trustees of the IFRS Foundation to consider the establishment of the ISSB.