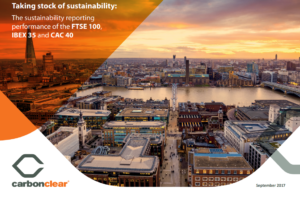 Carbon Clear published the results of the 2017 Sustainability Reporting Performance of the FTSE 100, IBEX 35 and CAC 40. The report highlights trends and leadership in environmental sustainability within Europe's largest companies.
Last year Spain's IBEX 35 was added to the sustainability reporting analysis, and in 2017 the corporate environmental reporting study has expanded once again. The 2017 research assesses how well the largest companies listed on the London Stock Exchange (FTSE 100), Madrid Stock Exchange (IBEX 35) and, for the first time, France's Euronext Paris (CAC 40 ) financial indices manage their environmental impacts.
The past seven years of the Sustainability Reporting Performance of the FTSE 100 research have focused on identifying best practice and how well publicly listed companies manage their impacts on and the effects of climate change. 2017 is no different, from setting ambitious carbon reduction targets to supporting the United Nation's Sustainable Development Goals, the research reveals how well the private sector is managing its environmental impacts.
With a score of 90%, Marks & Spencer not only tops the FTSE 100 ranking but is the highest scoring company in all three indices. Scoring 89%, Acciona set the pace in sustainability reporting among IBEX 35 constituents, whilst Schneider Electric top the CAC 40 with 79%.
Consumer preference and market factors such as the cost of renewables are important drivers in the UK.
In Spain, competitor benchmarking and reporting frameworks such as the Global Reporting Initiative (GRI) are advancing the environmental agenda
Legislation in France pressurises CAC 40 constituents to report on how they integrate ESG-climate risks and issues into their decision-making.
There's been clear momentum over the past year in how companies manage their environmental stewardship responsibilities. The Sustainability Reporting Performance of the FTSE 100, IBEX 35 and CAC 40 highlights those companies that are leading the way.