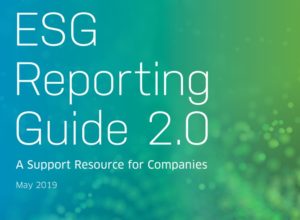 Nasdaq announced recently the launch of its new global environmental, social and governance (ESG) reporting guide to support public and private companies. The 2019 ESG Reporting Guide includes the latest third-party reporting methodologies widely adopted by the industry, and aims to help companies navigate the evolving standards on ESG data disclosure, regardless of geography or market capitalization.
"ESG data points have become essential tools, not only for investors seeking performance indicators, but also for companies trying to increase operational efficiency, decrease resource dependency, and attract a new generation of empowered workers," said Nelson Griggs, President of the Nasdaq Stock Exchange. "Our global ESG Reporting Guide is intended to serve as a resource for today's corporate leaders to create a world in which all market participants are able to share in economic opportunities."
The global version of the ESG Reporting Guide is based on three key developments:
The rise of new reporting frameworks, including the Task Force on Climate-related Financial Disclosuresand the UN's Sustainable Development Goals;
Guidance and best practices provide by the World Federation of Exchanges; and
The results of Nasdaq's year-long ESG reporting pilot program
"Our expanded ESG Reporting Guide integrates the latest reporting standards and long-term-focused methodologies and aims to further encourage companies in addressing critical ESG matters, such as capital markets and investor strategy, talent acquisition and retention, and supply chain oversight and responsibility," said Evan Harvey, Global Head of Sustainability, Nasdaq. "Our team remains fully committed to taking a leading role in facilitating ESG practices, disclosures, and dialogue between investors and companies."
Introduced by Nasdaq in March 2017, the ESG Reporting Guide was originally developed to support Nasdaq's Nordic and Baltic companies in their search for a more meaningful and sustainable connection with investors. ESG reporting is encouraged but not a formal listing requirement on Nasdaq's exchanges, and use of the Nasdaq ESG Reporting Guide is a completely voluntary initiative. It is not intended to compete with, supersede, or supplement any existing ESG reporting framework – but rather acts as an informal reference guide for companies looking to leverage ESG reporting as a way to improve operations, enhance strategy, broaden risk oversight, or engage with new investors.