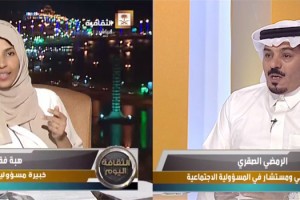 After the recent publication in the Saudi Gazette featuring the Islamic Reporting Initiative (IRI), Saudi Arabia CSR experts have praised the potential of the IRI in the daily news program 'Thaqafa Alyoum' on Al Thaqafiya television.
The presenter spoke with Heba Faqih, Board Member of the Jeddah Chamber of Commerce & Industry CSR Committee, and Al-Ramadi Qaad Al-Saqari, General Supervisor of the Saudi Network for Social Responsibility in Riyadh.
When asked about the challenges Saudi Arabia businesses face in terms of implementing CSR, Faqih responded that the overall awareness and understanding of CSR in the Kingdom is still relatively low. She went on to say this is where the Islamic Reporting Initiative closes an important gap, creating a valuable opportunity to facilitate accelerated progress.
Faqih recognized how the IRI leverages the potential of Islamic principles and values as a relevant reference point. Islamic principles and values are already well-integrated into corporate culture and are highly compatible with the objectives of CSR. As such, the IRI makes the task of introducing the new concept of CSR significantly more practical.
In strong support of the IRI's message that CSR reporting should be impact-oriented, Faqih and Al-Ramadi agreed that an effective tool for implementing CSR is first and foremost one that provides useful guidance to the business itself.
Al-Ramadi has previously said about the IRI: "Businesses throughout the Islamic world are set to prosper with the advancing of the IRI. Unique in its capacity to recognize and apply the values of Islamic business culture in a way that is compatible with international standards of CSR, the IRI will serve the sustainable interests of societies and economies worldwide."
Commended by the Organisation of Islamic Cooperation (OIC), the not-for-profit Islamic Reporting Initiative is creating the world's first mainstream reporting framework for CSR based on Islamic principles and values.
Link to the full program (50 minutes, in Arabic) here: https://m.youtube.com/watch?v=AEJWpFDWMPU