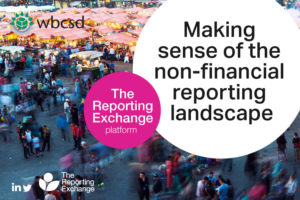 The World Business Council for Sustainable Development (WBCSD), the Climate Disclosure Standards Board (CDSB) and Ecodesk have joined forces to create The Reporting Exchange, a free, multi-lingual, global sustainability reporting knowledge platform. This pioneering platform will help business make sense of their non-financial reporting requirements or guidance at national, regional and international levels.
The Reporting Exchange will identify the reporting regulations, rules, policies, practices, initiatives, standards, codes and guidance which make up the reporting landscape as it evolves over time. This platform will provide much needed clarification to business. It will help business users prepare sustainability information for voluntary, compliance, or mainstream reporting purposes by providing one central resource for reporting provisions.
The Reporting Exchange will also be a useful tool for regulators, investors, academics, NGOs and civil society as well as for organizations developing reporting initiatives. The platform will help them find evidence and resources to advocate for greater corporate responsibility and accountability. WBCSD's Global Network (GN), an alliance of CEO-led business organizations worldwide, is supporting the consolidation of reporting requirements from around the world.
The project recently completed a successful pilot phase, and interested users are now invited to register for the beta release of the full platform, which is expected in December 2016.
CEDBS in Brazil, Perú 2021 in Peru and Forética in Spain are leading the Global Network engagement and were part of the pilot testing phase of the Reporting Exchange. Their insights show the practical implications and benefits for companies that will use the platform. For instance, the three partners highlighted the relevance for companies as the platform helps them understand the laws and requirements of the country they operate in as well as international requirements. The feedback of the companies which took part in the pilot phase was directly taken into account and used to improve the platform ahead of its beta phase launch.
The project is funded by The Gordon and Betty Moore Foundation.